Truk Lagoon, Federated States of Micronesia
(November 25 - December 9, 2007)
Pictures by Warren Lo © 2007
There are those trips you that you dream of. Those once in a lifetime trips - Truk Lagoon was just that. Almost three years in the planning, we finally departed at the end of November 2007. The total trip took place over nearly two and a half weeks. Traveling to Truk with full dive and camera gear was logistically complicated, which required two full days of travel to get there. However, in the end, it was worth every long hour spent waiting in airports, sitting on planes, and going through customs.
Truk Lagoon is part of the Federated States of Micronesia. Located near the equator, it is just directly north of the eastern shores of Australia, just over the international date line. Chuuk, as the islands are really called, is a fairly poor state. During world war II, the islands were a supply base for the Japanese. The Americans surprise attacked Chuuk (see Operation Hailstone) and virtually demolished the entire Japanese fleet. Many of the ships were merchant ships, designated "Maru", were sunk completely loaded with cargo. It is because of these wrecks that Truk Lagoon is world renowned for its diving. There was also significant loss of life during the attacks, and as a result, the Japanese have designated Truk as a national grave site.
The first week of our trip was aboard the Truk Odyssey liveaboard. A luxury 132 ft ship, our stay aboard offered the utmost in comfort, convenience, and most of all, spectacular diving. The state rooms were roomy and comfortable. The dive deck had lots of room for dive gear and a camera gear. The staff looked after us the whole time, from taking care of filling our tanks to serving us wonderful meals and surface interval snacks.
The second week of our trip was spent on the island at the Truk Stop Resort. The hotel, while certainly not as convenient as being on a luxury liveaboard, was clean and comfortable. We did day trips by boat out to the dive sites, which were generally more than a 30-40 minute boat ride out.
Anyhow, here are some images from the week. The slideshow presents a more complete story for the week - download it!!
Download Full Slideshow (100+ images!!):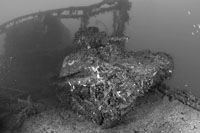 Click on the tank to download. 194 MB in size.
All Photos copyright © Warren Lo, 2007