San Andres, Colombia (February 15 - 22, 2007)
Pictures by Warren Lo © 2007
This was my first trip to San Andres, Colombia. Warm water, sunny skies, great dive buddies. What more can one ask for?
San Andres, though part of Colombia, lies approximately 140 kilometres off the coast of Nicaragua. The island is about 10 kilometres long, running north-south. Because of the trade winds that come from the east, most of the diving is done on the west side of the island. Being in the Caribbean, much of the marine was very similar to what I've seen in other Caribbean destinations such as Cozumel, Roatan, and the Bahamas. Nonetheless, there is an abundance of coral reefs full of marine life, along with deeper walls.
Our group stayed at the Decameron Resorts. This chain of resorts pretty well dominate the resort business of San Andres, with about 6 different resorts located around the island. Due to planning issues, our group was divided between the Decameron Aquarium and the Decameron Maryland. However, if you stay at any of the Decameron resorts, you can enjoy the amenities of any of the Decameron resorts, including the restaurants.
As for the dive operators, there are a number of them available on the island. We booked with an operation called Karibik Divers. Werner Köster was our host for the week, providing everything we needed for the week. He even met us at the airport when we arrived, and saw us off at the airport when we left, both times with cold beers in hand. The two boats they had were comfortable and clean, and got us out each day to the dive sites, save one day of rough weather. The shop is located about 100 meters from the Decameron Aquarium, which was a 3 minute walk. Our gear was left at the shop each night where the staff rinsed and hung our wetsuits and other gear to dry.
Anyhow, here are some images from the week. The slideshow presents a more complete story for the week - download it!!
Download Full Slideshow (100+ images!!):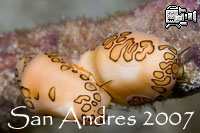 Click on the flamingo tongues to download. 148 MB in size.
All Photos copyright © Warren Lo, 2007