Cozumel 2005 (January 9 - 16, 2005)
Pictures by Warren Lo © 2005
Cozumel... a perennial favourite! My second trip to one of the most popular dive destinations close to home. Cozumel offers spectacular warm water drift diving. The island is located just 20 kilometers off the southern coast of the Yucatan, right across from Playa del Carmen. Most of the developed part of the island is on the west coast, where the city of San Miguel is located. The area boasts over 30 kilometers of crystal clear reefs with over 200 different species of tropical fish and other marine life, including eagle rays, reef sharks, and sea turtles. Water temperatures in the middle of January ranged from about 78F to 80F.
Our group stayed at the Hotel Cozumel (formerly known as Brisas, and a few other names). The hotel complex is fairly sizable with a pier right at the water where the dive boats pick up divers right from the hotel. We dove with Aqua Safari, which has a fleet of boats to accommodate our group of 45 divers. Warm water, fantastic diving ... what more could one ask for?
Here are some images from the week. The story is in the slideshow....
Download Full Slideshow (100+ images!!):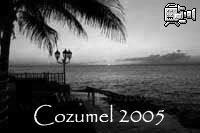 Click on the sunset to download. 117 MB in size.
Downloaded times:
All Photos copyright © Warren Lo, 2005