Blackbeard's Cruises 2006 (August 26 - September 4, 2006)
Pictures by Warren Lo © 2006
Yet another fantastic adventure with Blackbeard's! This was the first year the boats have been leaving from port in Freeport. Having moved, there no longer is the 6 hour crossing of the gulfstream to make it to the Bahamas. Often, the crossing to and from the Bahamas to their previous port in Miami was the most difficult trip for many, due to the often rough seas that would be encountered. What does this mean? More diving, of course!
Going this time of year is always hit and miss with the weather. Traditionally, the hurricane season for the Caribbean runs from June though the end of November. However, the water temps are also the warmest during this time frame, so I prefer to take my chances and not worry about the weather. Last year, we snuck in between storm systems and had absolutely idylic conditions. Flat clam seas and warm sunny weather. This year, it wasn't quite as good as we had the edge of hurricane Ernesto give us a glancing blow in the Bahamas. Ernesto, for some reason, also moved unusually and painfully slow, so we lost a couple of days of diving. However, after that, conditions were calm and the diving was great!
Anyhow, here are some images from the week. The slideshow presents a more complete story for the week - download it!!
Download Full Slideshow (100+ images!!):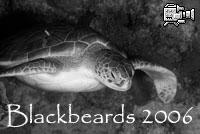 Click on the turtle to download. 142 MB in size.
All Photos copyright © Warren Lo, 2006